QPR Football Tournament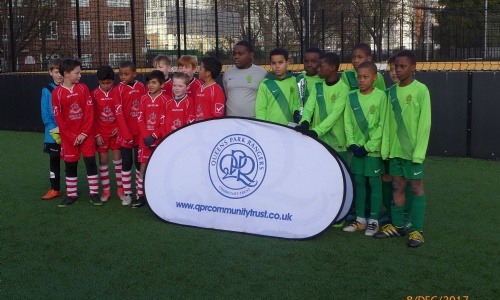 The boys played in the QPR Football Tournament 2017 – the winning team would represent QPR at the South of England Finals in March.
John Keble played 4 group stage matches, winning all games comfortably. They managed to score 30 goals without letting any team score against them. The captain led by example with some solid tackling.
The quarter-final was another solid performance with the boys winning 8-0, this set up a semi-final against local rivals, Maple Walk. This was a tough game, with the two teams fighting for local bragging rights but the Ace Team boys played some great passing football and eventually won by 8 goals to 1.
The final was against a team from Eastcote who had a large following. The game got off to the worst start possible when the opposition scored an early goal. The team fought back and led 2-1 before they conceded another. The score was 2-2 at half time. The two teams both scored early goals in the second half to leave the game poised at 3-3. The remainder of the game saw John Keble play some scintillating football, scoring 5 goals in the closing 7 minutes. The final finished 8-3 and the boys cannot wait to represent QPR at the Majeski Stadium, home of Reading FC.