Chelsea Tournament Winners!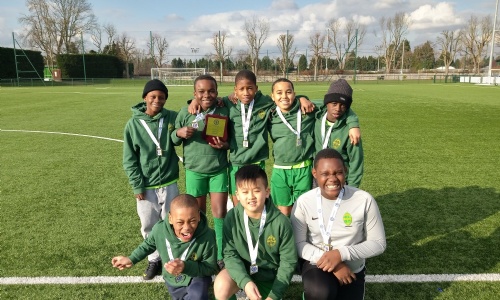 The Ace Team travelled to Chelsea's training ground, Cobham, to participate in the finals of the Chelsea Premier League Tournament. The winners would go on to represent Chelsea at the National Premier League Tournament in May.
The top five teams from across London, Essex, Hampshire, Berkshire and Buckinghamshire were invited to take part. Each team would play each other twice with the top team winning the tournament.
John Keble got off to a flying start recording wins of 3-0 and 6-0 in their two opening games. We were then held to a draw in the next game before winning the next match 2-0. At the half way stage the boys were in pole position. Things continued brightly as the next two games ended 4-0 to John Keble. However, in the next game the boys lost after conceding a controversial goal. Despite this, the boys showed excellent resilience and koinonia and won their final game 2-0. This was enough to ensure the boys won the tournament.
They will now represent Chelsea at the National Premier League Schools Tournament in May, which will take place at the King Power Stadium, the home of Leicester City.