Dream Team victorious in the Brent Cup semi-final!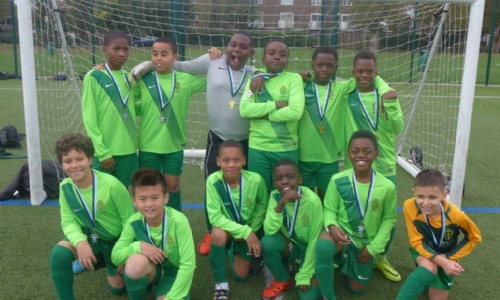 Monday saw a repeat of last year's semi-final draw for the John Keble boys in the Brent Cup. They played Robert Southwell Primary School who beat our boys 2-1 last year in the same fixture. This year, the tables were turned with an emphatic 7-1 trouncing of the Robert Southwell football team.
Our boys scored an early goal with some fine football down the right and a low cross for the striker to tap in. A few minutes later, a corner was conceded by the John Keble boys due to some sloppy defending which lead to an equalizer. That's all it took for the Dream Team to wake up and so followed wave after wave of attacks, 6 more goals were scored before the final whistle which now takes the boys to the final of the Brent Cup for the second time in three years.
They will face Sinai Primary for the coveted trophy and the game is scheduled to be held at the Hendon Stadium in April.
Well done Dream Team whose season just keeps on getting better and better!