We're on our way to Wembley!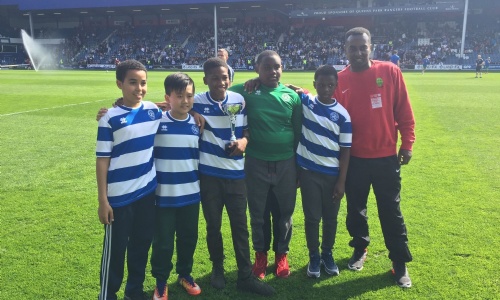 John Keble's Dream Team were invited to Queens Park Rangers ground at Loftus Road on Saturday 14th April. This was in preparation for the big day at Wembley Stadium to represent the South East of England against the North of England winners.
Following the epic victory in the tournament for the South East of England representing QPR, the boys were presented on the pitch to15,000 - 18,000 QPR supporters after being announced over the PA system of what they had achieved. The boys went on a lap of honour around each stand to which they received a warm, appreciative accolade. The boys then joined some other children and flew a giant EFL flag in the centre of the pitch, five minutes before kick-off!
After the presentation, the boys were lead to their seats in the stands to watch the first-team game between QPR and Preston North End FC.
It was an amazing day out and an experience not soon to be forgotten.
One of the players described his experience, "On Saturday 14th of April 2018, we went to QPR stadium.
While we were there, we played football and we met a footballer called N Onuoha at Loftus Road, their football ground. Five minutes before the QPR first-team played, we got to walk around the whole stadium with the football team and the cup. We had to clap at the fans who were watching. After that, we got to hold the QPR flag in the middle of the semi-circle and span it around in a circle.
Within 13 minutes of the match starting (QPR vs Preston) M Smith scored a goal so QPR manage to go 1-0 up. But after 32 minutes, it was 1-1 as Preston scored on the 45th minute with a goal by C Robison. Preston were coming back into the game. Then 29 minutes into the second half, Preston manage to score again with a goal by the same person. C Robison scored on the 74th minute and the match ended 2-1 to Preston."
THE NEXT STOP IS WEMBLEY! COME ON JK!