John Keble Primary Crowned EFL Kids Cup Champions!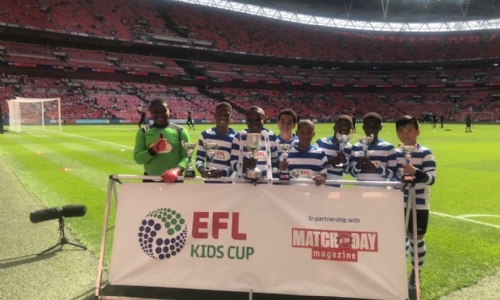 The Dream Team trounced every team in their path much to the chagrin of their fellow competitors and they did it in style.
The EFL Kids Cup is a six-a-side football tournament which brings together nearly 15,000 youngsters from over 1,800 schools. With 72 teams competing for the coveted title, the Dream Team had to win two other tournaments in order to represent Queens Park Rangers FC at Wembley Stadium in this tournament.
It was no small feat and perhaps an outright claim of being the ultimate best in the UK that the Dream Team reached the final game. It was played against Sheffield Wednesday's Greenhill Primary School. They won the final with an emphatic 3-1 victory!
Many footballers have dreamed of playing on the big stage at Wembley Stadium but very few have actually achieved this. This may have been a once-in-a-lifetime opportunity for the boys and they emerged champions with much class and decor as ambassadors of the school. Their pronounced good attitude towards fellow competitors has been above reproach throughout the tournament and this along with their amazing ability and coach Eddie at the helm is the reason for their success. Well done Dream Team!