John Keble School wins the Chelsea Premier League Schools' Tournament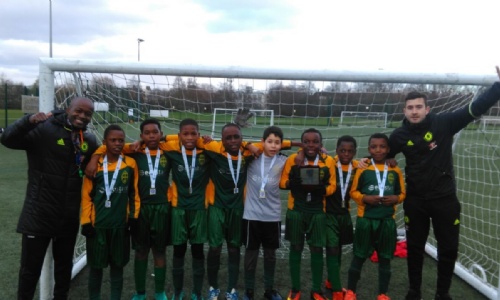 On 11th January 2017, our Ace Team won this key tournament beating 31 other schools from all over London. They will now represent London against the surrounding counties.
The boys travelled to South London to take part against 32 schools from all over London. In the group stages we played 7 matches, winning 5 games and drawing 2. Donte, Rashane and Romel scored lots of goals and the boys were playing nicely.
After winning the group stages the Ace team went through to the semi-finals against a tough opposition from Putney. After Romel scored to go 1-0 up the team were looking comfortable with some excellent tackling from Elluyani and Rickai. However, the opposition managed to score from a corner which made the score 1-1. In response, Coach Eddie turned to D'Jahnni who came on as a substitute and scored almost straight away, the boys were into the final!
The other semi-final ended in a draw so the boys watched the resulting penalty shootout in anticipation, who would they play?
The team faced another South London school in the final, the winners would represent the whole of London in the next stage of the tournament (taking place at Chelsea FC's training ground in Cobham). After a bright start John Keble looked comfortable but they could not manage to find that important opening goal. Rashane and Romel had excellent chances, both brilliantly saved by the opposition goalkeeper. Saad also made an excellent save in goal from the opposition. After 8 minutes the score was still 0-0, this meant that 3 minutes of extra time would be played. Coach Eddie took a risk by taking off Elluyani and replacing him with D'Jahnni. With one minute to go the risk paid off with Romel controlling the ball nicely before shooting at goal, it was going narrowly wide but D'Jahnni stuck out his foot and placed the ball past the diving keeper – 1-0! Captain Elluyani was brought back on for the last minute to help hold onto the lead, the boys had done it, next stop Cobham!