The Ace Team Win Tournament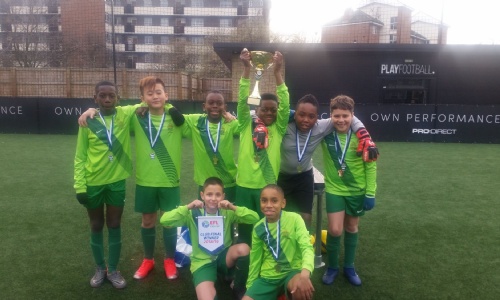 The Ace Team travelled to PlayFootball, South Africa Road, to take part in the annual EFL Kids Cup tournament – hosted by QPR. The boys had big boots to fill after last year's team had won the whole tournament.
The first game did not go to plan and the boys got off to the worst possible start with a 2-1 defeat in their opening game. Luckily the boys rallied well and put in a great performance to beat a strong St Edwards side 3-0. The final group game was against Wilberforce and the boys played beautifully and eventually won the game 9-0.
This put the boys through to the knock-out stages. They won the quarter finals on a penalty shoot-out after two fantastic saves from the John Keble goalkeeper. The semi-final match was against Byron Court and the team played with good strength and determination to win 2-0 and progress into the final.
The final saw the boys play against the same St Edwards team they had played in the group stage. We got off to an excellent start by scoring the best team-goal of the season with great passing from all of the players. However, with 1 minute left in the game, the opposition scored a goal. This meant the final went to penalties. Again, John Keble were triumphant and this confirmed consecutive victories at this tournament.
The boys will now represent QPR in the South of England tournament to be held in Reading.