World Book Day 2019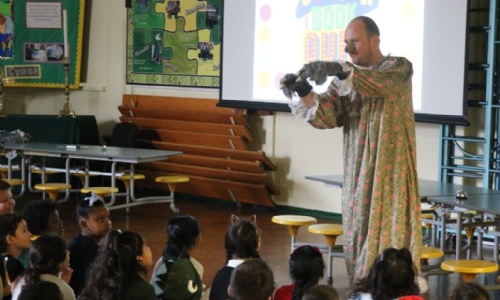 John Keble celebrated World Book Day 2019 in style, with the children and staff all dressed in the costumes of their favourite book characters.
Roaming around the corridors this year were Cats in Hats, Little Red Riding Hoods, Wimpy Kids carrying their diaries, fairy tale princesses in flowing ball gowns and Hogwarts alumni waving their wands. Any supervillains on the loose needed to go into hiding for the day, such was the presence of Comic Book superheroes keeping us safe!
During the morning, the children tested their mettle in our World Book Day Gameshow hosted by none other than the Big Bad Wolf. Nobody was safe, not even the teachers. Not only were they put through their reading paces, but were schooled in how to draw book illustrations by none other than Quentin Blake and Jeff Kinney. Mr Stevenson's Reading Challenge also received a whopping triple figure number of entries to top off a terrific day.
A big thankyou to all the children and staff who so enthusiastically took part in the day and created a great buzz around the school. A big thankyou also to our families who helped the children to look so great and to all the parents who joined us on Friday afternoon to promote reading with their children!