Blue Peter Badge Winner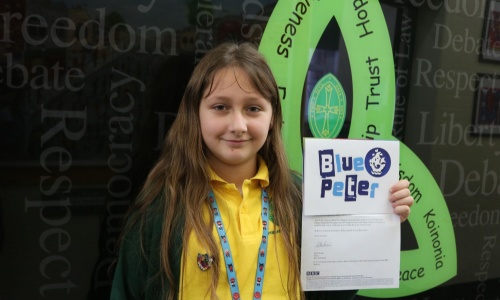 The Blue Peter badge is awarded to special viewers of the CBBC programme and fans who apply and are picked out of thousands of other applications from across the country.
One of the children from the school won the prestigious Blue Peter badge and here is what they had to say:
"Over the weekend I found out that I have won a Blue Peter Music Badge which is awarded to viewers with a passion for music.
To get my badge I had to do the following things:
I had to write a letter explaining why I like music
Interview a teacher (I chose Miss Auty) and my elder sister about their favourite music
Finally write down my three favourite songs explaining why I liked them.
I wanted to get this badge as I had seen it on the show and I love music. I am part of the school choir and I learn how to play keyboard here at John Keble. The badge is designed by Ed Sheeran and now I am a Blue Peter Badge holder, I gain free access to over 200 Blue Peter Badge Attractions. Maybe you can try and get a Blue Peter badge next?"