Healthy Bodies, Healthy Minds Week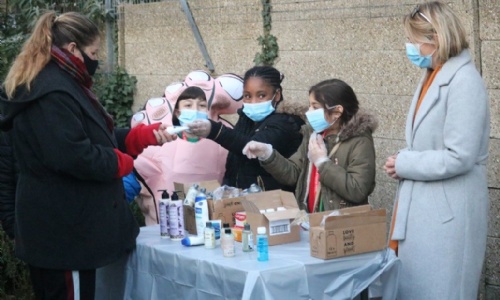 Healthy Bodies, Healthy Minds Week
Last week, we were thrilled to celebrate Healthy Bodies Healthy Minds Week.
Our enthusiastic Junior Leadership Team's Health Leaders worked tirelessly to film daily workouts alongside Ms. Love, create and distribute healthy recipes, sleep facts and information on the importance of limiting screen time.
With your support, they also organised and sold a selection of everyday toiletries which helped raise £101.00 to help purchase playground and PE equipment for our school. Thank you.
Unfortunately, the weather on Thursday was not very pleasant so we will be back on Tuesday 8th December with the remainder of our stock. Please remember to bring your pocket money!
Throughout the school, students engaged in a number of activities to better understand how what we do with and put into our bodies can have a powerful impact on our mental wellbeing. Examples include dental hygiene lessons, sugar content and balanced meal preparation, a winter themed sports' day, participation in the 'Walk to School' challenge and a range of exercises to practice mindfulness.
The message that being physically active, getting enough sleep, and eating or drinking the right things are just as important for our minds as they are for our muscles was reinforced throughout the various activities which students engaged and participated in. Our school therapist, Emily kindly highlighted this with a recorded message to be shared during Monday's assembly.
As put by one of our year three students: "Mental health can affect our physical health too, being stressed out or worried can stop us from learning and leave us feeling tired." (Shane Year 3)
Thanks for your continued support.