Brent Schools Football Tournament 2021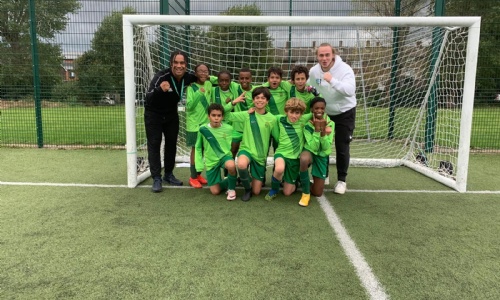 John Keble take 3rd place!
Historically, the school has fared well in this tournament and this year's team representing the school did not disappoint.
John Keble placed third behind Malorees, the winners and Preston Park, who took second place.
It was a tough fixture list but our children persevered. In the group stages, we won two of our games 4-0 and 2-0 and drew one game 1-1. The team then went on to win their quarter-final game 1-0. Malorees, the overall winners then beat us 2-3 in the semi-final game in a penalty shoot-out where the full-time score was 0-0. This is a promising result as a win in this fixture would have put the team in the final fixture and could have spurred the team to possibly go on to win the tournament. The coaches will be looking at this game and thinking of ways to win this kind of fixture in the future.
The team then went on to win their final game, the third place play-off, against Salusbury.
A huge well done to the team and the coaches for a great performance! Let's put JK back on the football map.