Parent social evening, building community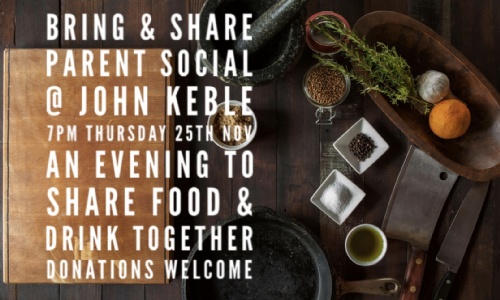 Thursday 25th November: Bring and Share
Dear Parents,

Following the interest shown at the Parent Coffee Morning, John Keble will be hosting a Parent Social Event (see flyer attached) on Thursday 25th November for parents and carers to come together over a meal and a drink at the school. It will be a 'Bring & Share' evening for adults only.

We thought it would be wonderful to take the opportunity to share a dish that best reflects our many cultures. Please bring something to share. Any money donations are most welcome but no pressure at all as it is more important that we spend an evening getting to know each other and having some much needed fun.

It would be lovely to have a handful of volunteers to help set up and pack away that evening- please do get in touch if you're able to do so.

If you would like to come along to this event, please email admin@jkeble.brent.sch.uk with a 'Yes' and confirm the names of the parents/guardians who will be attending. The school will forward your email to me.

Looking forward to this!
Lulu (year 1 Oak parent)