Ace Team Through to the National Premier League Finals!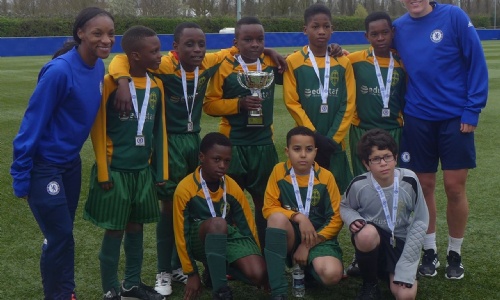 The Ace Team travelled to Chelsea FC's training ground in Cobham on Monday 20th March to take part in the finals of the Chelsea FC Premier League tournament. The top 6 teams from across London, Surrey, Sussex, Kent and Essex were invited. Each team played against one another in a league format with the top side winning the tournament and going on to represent Chelsea at the nationwide Premier League Schools Tournament.
The boys got off to a great start with a 1-0 win in their opening game! One child scored after a great run and a well placed cross from another. The next game was against the Sussex championswhich had 3 academy players. Despite going 1-0 down, the boys fought back hard. Coach Eddie tactically substituted an extra striker on knowing the importance of this game and it paid off! The boys managed to equalise late on through a decisive finish from one of our players.
Up next were the Surrey champions, arguably the strongest side being represented. The John Keble boys played brilliantly with some excellent marking and defending from us and a great performance from our key striker who scored the winning goal to make it 1-0 to John Keble. The boys were excellent in this match, listening carefully to Coach Eddie's instruction as they played the opposition's star player out of the game. High on confidence, the boys won their next match 3-0. Our goal keeper made a fantastic save from an opposition penalty during this match to keep a clean sheet. Due to other results, the boys knew that a win in the last game would be enough to win the tournament and progress through to the national event. With this fresh in their minds, the boys began the game with the advantage when one of our strikers opened the scoring after just 2 minutes from the penalty spot. However, the opposition team pulled back a goal against the run of play to make it 1-1 with six minutes left to play. John Keble responded brilliantly with the team tucking home a fine strike from the edge of the area. The boys went on to win the game 3-1. One of our players was scouted by Chelsea who were extremely impressed with his performances all day.
They have done it!
The Premier League tournament will take place in May at a Premier League ground with 20 schools from across the country competing for the honour of being named the top primary school football team in the country!
See the article on Chelsea FC's official website by clicking on the link below.
http://www.chelseafc.com/news/latest-news/2017/03/chelsea_s-teams-for-premier-league-event-chosen.html