Science
What is the intent of our science curriculum?
Our ambitious, knowledge-rich curriculum has been sequenced to equip our pupils with the knowledge and skills to ensure they are happy, healthy global citizens, ready to take their place in modern Britain. The broad and balanced curriculum is creative, coherent and inclusive and, together with our Christian values, enables the pupils to be self-motivated, independent learners.
At John Keble, we desire to give every pupil to develop scientific knowledge and conceptual understanding through the specific disciplines of biology, chemistry and physics. They will develop understanding of the nature, processes and methods of science through different types of science enquiries that help them to answer scientific questions about the world around them. Finally, pupils will be equipped with the scientific knowledge required to understand the uses and implications of science, today and for the future.
How do we implement our science curriculum at John Keble?
Science will be taught as set out by the year group requirements of the National Curriculum. This is a strategy to enable the accumulation of knowledge and allows progress in repeated topics through the years. Pupils will concentrate on one science skill per term. Term 1 will be dedicated to planning investigations, Term 2 to results gathering and analysis, and Term 3 will be spent evaluating practical work. Although each skill is related and there are links between them, there is minimum crossover as they are taught, so each becomes firmly embedded. Through our planning, we involve problem solving opportunities, allowing children to find out for themselves how to answer questions in a variety of practical means. Children are encouraged to ask their own questions and be given appropriate equipment to use their scientific skills to discover the answers. Engaging lessons are created with each lesson having both practical and knowledge elements. Teachers use precise questioning in class to test conceptual knowledge and skills and children are regularly assessed to identify those children with gaps in learning, so that all children keep up. We build upon the learning and skill development of previous years.
As the children's knowledge and understanding increases, and they become more proficient in selecting and using scientific equipment, collating and interpreting results, they become increasingly confident in their growing ability to come to conclusions based on real evidence. Working Scientifically skills are explicit in lessons to ensure these skills are being developed throughout the children's school career and new vocabulary and challenging concepts are introduced through direct teaching. This is developed through the years, in-keeping with the theme of the lesson. Teachers demonstrate how to use scientific equipment, and the various Working Scientifically skills in order to embed scientific understanding.
When do we teach scientific enquiry skills at John Keble school?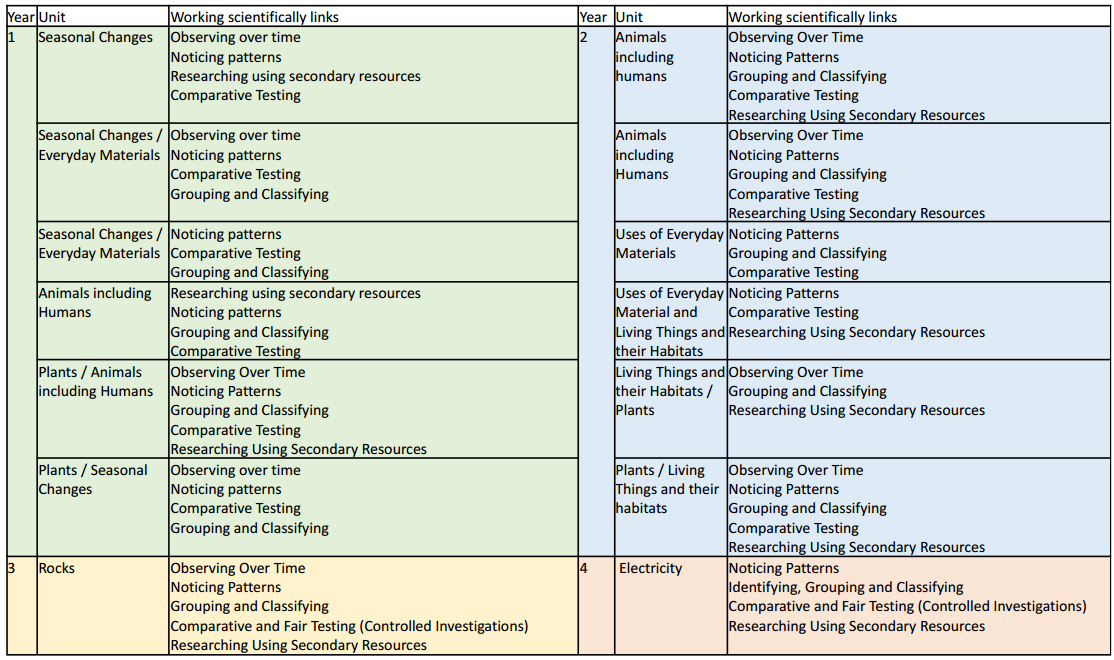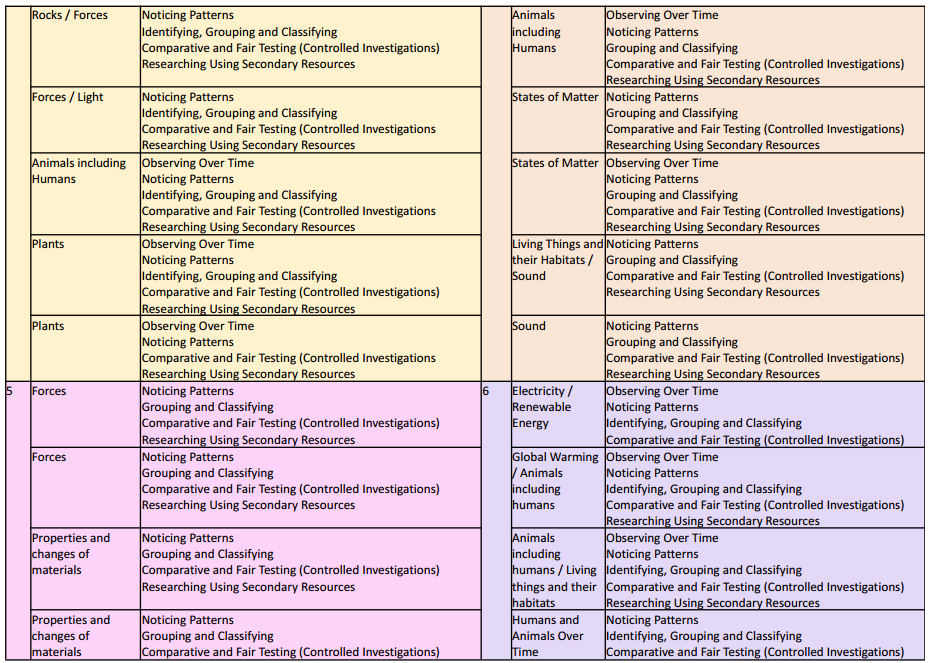 What is the impact of our science curriculum?
The units in the science curriculum are grouped by key stage, with a suggested route organised within year groups. The substantive knowledge (i.e. the science content) will be taught in units, and the disciplinary knowledge (i.e. working scientifically) is taught in context. Hierarchical elements of working scientifically are reflected in the units and built up accordingly. Each unit is rich in vocabulary and working scientifically is woven into most lessons. The curriculum is designed to be able to support all pupils. The units are pitched so that pupils with different starting points can access them. Pupils need to have a large amount of subject knowledge stored in their long-term memory in order to become competent at any subject, and this is especially true of science, where application is often an application of knowledge. For this reason, these lessons are designed to teach science in a clear and deliberate fashion, emphasising secure content knowledge before moving on to tasks. In this approach, the teacher is the subject expert and the emphasis is on instruction and explanation, followed by deliberate practice supported by modelling, guided practice and scaffolding. Models and analogies will be used where appropriate to allow pupils to visualise or contextualise abstract ideas. At the end of each unit, pupils will be given an end of unit task. This will be an opportunity for the pupils to showcase their learning and what they have understood in a task. Class teachers will be able to use it as a tool to assess the pupils. For a more in depth look at our Science Curriculum, download the link.